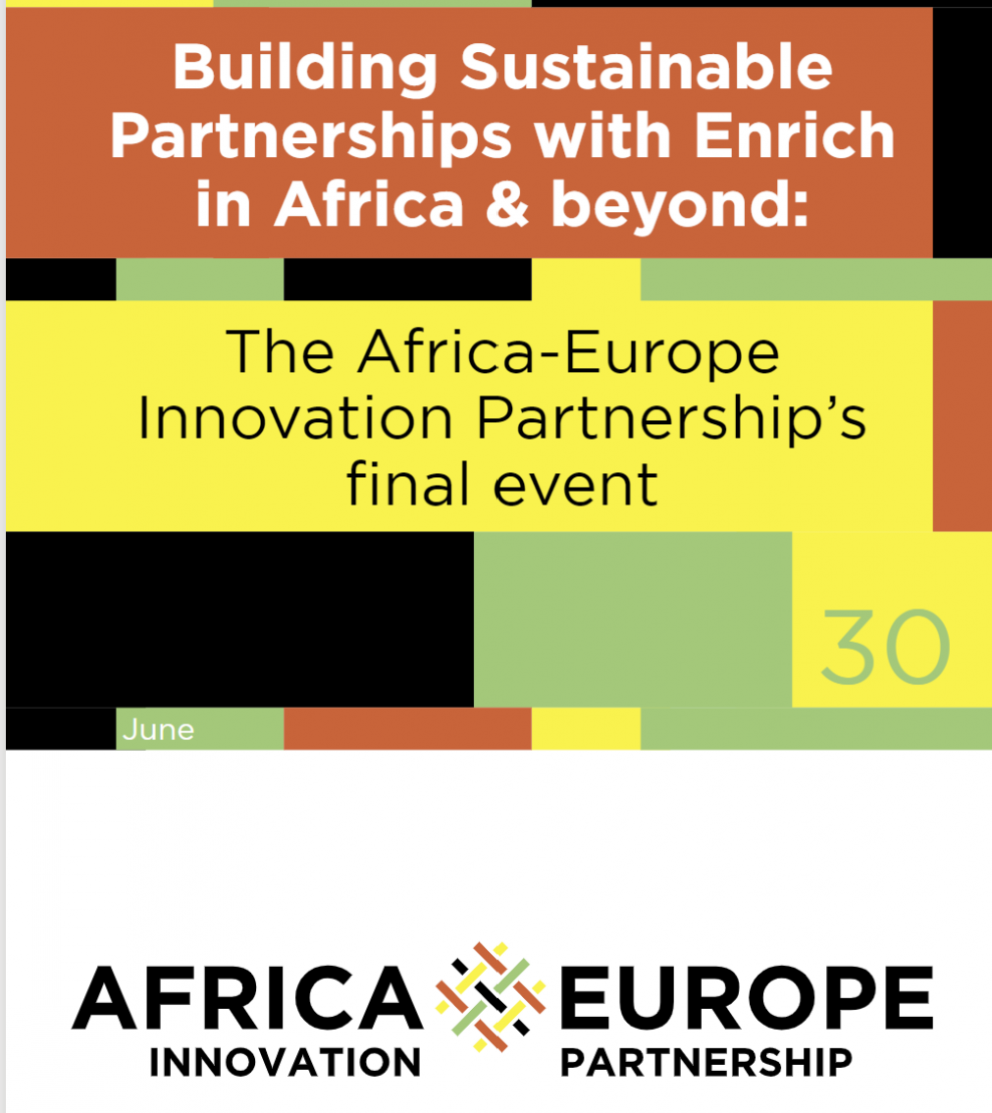 Summary of the Final Conference Plenary Sessions (June 30th)
Opening ceremony & remarks provided by European Commission, African Union, national governments 
Ms Mariya Gabriel, European Commissioner for Innovation, Research, Culture, Education and Youth gave the first opening remark, formally opening the final AEIP conference. In summary, she applauded the fact that the AEIP pilot programme has shown that cooperation between innovation actors in Africa and Europe has great potential and can be mutually beneficial for citizens, researchers and entrepreneurs.  
Ms Gabriel further emphasized that the achievements of AEIP are significant. That though the AEIP project was designed for sub-Saharan Africa, it has quickly expanded to the entire African continent and has incorporated North African stakeholders as well. She was also pleased that the start-ups and incubators of the AEIP network have been active in the search for innovative solutions for the fight against the development of the pandemic in Africa as well as in Europe.  
Ms Gabriel also announced that although the pilot program is coming to an end, other initiatives will continue to support activities piloted in the AEIP. First of all, within Horizon Europe, the Commission has created an "Africa Initiative" whereby 350 million euros will be distributed across forty themes and will be the subject of calls for proposals. These calls will focus on four priority areas: public health, green transition, innovation and technology, and capacities for science.  
Secondly, and more specifically on digital innovation, three complementary programs "ENRICH Africa", "Digital for development Hub" and "Africa Connect" will be deployed, building on the achievements of the pilot AEIP program to continue and deepen transcontinental cooperation. These programs also aim to support the digital transformation of Africa and the strengthening of its digital ecosystems.  
In regards to cooperation with universities and researchers, Erasmus+ and Erasmus Mundus will offer universities the opportunity to participate more actively in innovation and the creation of innovative enterprises. Moreover, the "EURAXESS" programme will be extended to researchers from Africa as of 2022, which will promote their mobility and career development.  
She concluded by thanking the African Union for its unconditional support for this program from the beginning and throughout its implementation. 
Prof Sarah Anyang Agbor, African Union Commissioner for Human Resources, Science and Technology, began her speech by mentioning that the current Chairperson of the African Union Commission H.E Dr Moussa Faki Mahamat, is equally pre-occupied with the development agenda of harnessing innovation and creativity to address development challenges between Africa and Europe. She also thanked the European Commission for their collective effort with the African Union to advance science, technology and innovation initiatives as enablers for promoting growth, employment creation, improvement of competitiveness and addressing societal challenges.  
In addition, Prof Agbor mentioned the adoption of the joint AU-EU strategy by the heads of state and governments of Africa and Europe in Lisbon in 2007, which opened up new opportunities for cooperation in science, technology and innovation. She quoted the following from the AU-EU joint strategy, 'it is now time for the European and African continents with their rich and complex history to forge a new and stronger partnership that builds on their new identities and renewed institutions capitalised on the lessons of the past and provide a solid framework for long-term systematic and well-integrated cooperation.' 
Furthermore, Prof Agbor is pleased that a lot has been achieved through the launch of concrete programs such as the Africa-Europe Innovation Partnerships. She mentioned that incubators and accelerators are important actors that are needed for the diffusion of breakthrough innovations into industries and societies as well as to promote job creation. She further elaborated that the AEIP has the potential to create new value chains and markets that attract more investors. In conclusion, Prof Agbor urged the innovation stakeholders to proactively participate in the digital transition strategy for Africa as innovation partnerships are essential to achieve the Agenda 2063 for the Africa we want.  
Prof Manuel Heitor, Minister of Science, Technology and Higher Education, Portugal, started his speech by mentioning that the Portuguese presidency of the Council of the European Union has given particular attention to Africa-Europe cooperation in science and technology. Their goal focused on citizens and bringing to the center of debate, those who have typically been left in the margins. The objective of the Portuguese presidency was to bring a comprehensive and more inclusive digital and green transition, but also to look into a deeper understanding of the social dimensions of citizen needs. 
He emphasised that Europe-Africa cooperation needs to be driven and focused on the needs of common demographics – supporting the young population and addressing growing inequalities. Prof Heitor further emphasised that it is important to focus on what the citizens need such as more learning systems and research & innovation activities that ensure a development pathway that addresses citizen's needs.  
Moreover, Prof Heitor highlighted that we live in times where we need to understand that it is only through the values and practices of fundamental research in collaboration with disruptive innovation that we can speed up development. He gave the example of the Covid-19 vaccination development, where we clearly saw how disruptive innovators and scientists working together were able to develop a vaccine in a timely process and roll it out across the world. 
Prof Heitor concluded by stating that the AEIP conference, which is bringing together technology incubators, is particularly important. However, it is important that such gatherings bring together incubators, research institutions, researchers and entrepreneurs to work together and address the needs of the population in order to develop a better world.  
Keynote speech 
The keynote speech was given by Rebecca Enonchong, the Board Chair at AfriLabs Foundation. In her speech, Rebecca highlighted internet connectivitiy as a key issue in bringing the two continents together, stressing that at present, internet access is inexpensive in Western countries, but in Africa is a cost and a key hurdle to collaboration.   
Ms Enonchong emphasised that tech hubs and innovation centers are essential to the development of Africa's startup ecosystem. They provide office spaces, internet connection and support to startups so they can develop. On the other hand, in Europe, many companies are growing out of 'garages' which is generally not possible in Africa due to a general lack of infrastructure. Whereas in Africa, the tech hub is the metaphoric 'garage' as they are generally the only means to support startups and entrepreneurs to be able to grow and thrive. Thus, these entrepreneurs would not have a fighting chance without the hubs' support.  
A key point that Ms Enonchong highlighted in her speech as a positive development is that digital economy today has no borders and makes it possible for collaborative relationships to be built across countries and continents. The digital economy provides the opportunity for African and with European actors to collaborate, learn from each other and work on building a stronger and more resilient digital economy.  
She also stressed that AfriLabs, which has grown to include 268 member tech hubs from across 49 African countries, has a number of projects and programs to ensure these tech hubs can better support entrepreneurs on the ground. Moreover, that it is exciting to see the African ecosystem grow – for instance, in the last couple of years, these hubs are becoming specialised in in specific sectors – fintech, edtech, legaltech etc.  
Ms Enonchong concluded by briefly presenting Catalyst Africa, an example of an EU-Africa collaboration. The Catalyst Africa program is a joint AfriLabs program in collaboration with the African Business Angels Network that is funded by the French Agency for Development (AFD). This program helps de-risk investments in African startups by matching investments (up to 60 thousand Euro) from business angels in the African Business Angels Network, into African startups. 
Round up of AEIP network impact stories 
In this session, tech hub representatives presented the collaborations they have been implementing within the framework on the AEIP project. The speakers for this session were Abdur Rahim (WAZIUP, Germany), Maurice Caschinco (Kumasi Hive, Ghana), Barbara Mutabazi (Hive Colab, Uganda), Jean-Christophe de Tauzia (Incubateur Descartes, France), Soulamane Konkobo (Burkina Business Incubator, Burkina Faso) and Clare Turner (Imperial College London, UK). 
First, the collaboration between WAZIUP (Germany), Kumasi Hive (Ghana) and Hive Colab (Uganda) was presented. Kumasi Hive and Hive Colab have been collaborating with WAZIUP to support African startups to develop effective and sustainale Internet of Things (IoT) solutions. The biggest challenge they have faced in their collaboration is the lack of quality content, meaning content on IoT, etc. Through this partnership they are able to provide boot camps and virtual events to engage startups/tech hubs from all over Africa on IoT. 
Second, Jean-Christophe de Tauzia (Incubateur Descartes, France) presented the molecular startup initiative implemented by African, Indian and European partners. The cooperation started with the first AEIP event in Nairobi in 2019 where a relationship between the partners was established. Subsequently, Orange, who basically invented the multinuclear startups-model, was onboarded as a corporate partner. As this was the first time running such an intiative across continents, it included intensive discussions with various parties to finalize the partnership and to clarify the roles and responsibilities. One of the biggest challenges was being convincing while onboarding, finding timeslots over differen time zones and having virtual meetings. As next steps, they will support companies with mentoring offers, twinning and staff exchange programme between companies. They will also follow-up with Enrich Africa.  
Soulmane Konkobo (Burkina Business Incubator, Burkina Faso) presented the collaboration between Burkina Business Incubator and Technoport (Luxembourg). The two partners connected to write common proposals submitting them to public calls. They secured funding from the NGO Terre des Hommes to support 40 entrepreneurs in the arts and cultural sectors by organizing trainings and validating project ideas. They also obtained funding from the Luxembourgian Ministry of Cooperation to organise a technology transfer between bussines in Luxembourg and Burkina Faso in the ICT, manufacturing, agricultural, environmental and health sectors. They are also in regular discussions on further opportunities for collaboration.  
Lastly, Clare Turner (Presentation of Imperial College London, UK) presented her experience in the AEIP tech hub network. Coming form a university, for her the AEIP is an incredible valuable partnership with practical project opportunities in areas such as on air pollution, diagnostics, or malaria. Imperial College is also active in capacity-building in African Universities. The Covid-19-Pandemic led led to delays in implementing joint activities and these had to be implemented in different ways. In general challenges were short time frames or deadlines for  research proposals (no time to communicate/get to know each other before). They will carry on with networking to overcome this problem.  
Questions from event participants: 
Ayokunle Adeniji (Birdslip, Nigeria), the founder of Birdslip, an edtech platfrom created to inspire university students in Africa to build businesses, asked whether the presenters had any kind of support providing training for startups in a digital content form. Claire Turner (Imperial College London, UK) answered that they were so far rather focusing on African university partners than on tech startups. Abdur Rahim (WAZIUP, Germany) added that they have developed this across quite many countries with a technical focus on IoT.  

Another question from the audience for Soulamane Konkobo (Burkina Business Incubator, Burkina Faso) was about advice that he could share on how to bring in external partners (investors, NGOs, national governments) to take his tech hub partnership to the next level. Soulamane Konobo answered that indeed external partners were key, especially in the technologies area. He highlighted that AEIP is a big opportunity for networking and that similarly events from AfriLabs are useful for networking with partners from the US, etc. Barbara Mutabazi (Hive Colab, Uganda) stressed that the development of ecosystems with the private sector, the government, the academic and other techhubs is vital to connect connect efforts as well as resources and to provide startups with more support from different angles. She presents the example Startup Pregcare, who is using WAZIUP technology to enable the remote monitoring of pregnant women, conduct capacity building, and try to get involved with the private sector to increase resrouces.  
As a wrap-up, the speakers presented their next steps: 
Abdur Rahim (WAZIUP, Germany): Their next programme started last month and lasts for the next 3 years. They are ready to use materials that they have developed and expand to northern and eastern African partners.  

Maurice Caschinco (Kumasi Hive, Ghana): They reached out to Cambridge University and want to continue hive biolab / biotech in partnership with WAZIUP. 

Barbara Mutabazi (Hive Colab, Uganda): They will continue their partnership and foster sustainable development in Africa in partnership with Europe.  

Jean-Christophe de Tauzia (Incubateur Descartes, France): They are planning to go beyond technology transfer, by creating business opportunities as well as added value between startups and scaling up projects. 

Claire Turner (Imperial College London, UK): They will continue to find out about funding calls and push for joint practical projects.  
Round Table on Intellectual Property: Vaccines and Patents 
This plenary session was moderated by AEIP team member  Thyra de Jongh and featured the following high-calibre panelists:  
The discussion focused on lessons learnt and solutions for a more equitable access to medicines in the overall framework of a balanced relationship between Africa and Europe. The panelists discussed whether and how IP and patents may delay the deployment of pharmaceutical products in Africa, and whether a waiver of IP rights on vaccines could be a long-term solution to address lack of access to medicines in Africa. The discussion also shed light on what lessons can be learned from the ongoing pandemic for future health crises. It discussed the role of  intellectual property protection regimes, licensing options, technology transfer considerations, manufacturing capabilities and capacity, and regulatory approvals processes. The panelists on intellectual property regimes and licensing, biologics manufacturing, and regulatory approvals, highlighting practical considerations based on their experiences in the field.    
HRH Princess El Hassan stated that as the president of WAITRO she recognises the severe impact the Covid-19 pandemic has had on communities globally. She recognised the achievement of developing multiple vaccines around the world, proving how collaboration can help overcome global challenges. The true test lies in distributing vaccines to all corners of the world now, which so far has proven contentious. On the one hand, IP is considered as  providing a conducive framework for innovation in medicines. HRH El Hassan also recognised that an IP waiver will not be the only solution to ensuring access. Rather, trade restrictions may pose a more severe obstacle. The key question regarding an IP waiver is whether each country has the right to manufacture its own vaccines in a pandemic, and how this should be governed.  
Mr Bartels from WIPO stated that it was his agency's role to protect innovators rights to their intellectual property. He mentioned that they collaborate with the WTO and the WHO to ensure there is a sound evidence base for policy makers to decide on how to promote access to medicines and related technologies. He clarified that the TRIPS agreement provides leeway for policy makers to make use of flexibilities to promote medicinal access. IPR are tools for innovation, trade and investment, production and market development. This system, in Mr Bartels view, can contribute to access to health technologies.  
Ms Boulet from the Neglected Diseases Initiative shared her perspective on neglected (often tropical) diseases where access to medicine has posed a challenge for many years. Her initiative is trying to address this. Her initiative focuses on equitable access and affordability of treatments. Results of research funded by her initaitive should be made available to the public.  
Ms Hassan from the Health Justice Initiative made five key points in the discussion. Firstly, she criticised the inequitable access to Covid-19 vaccines around the world, with low-income countries including in Africa being disadvantaged. This despite the fact that there has been substantial public investment in the development of these vaccines and countries such as South Africa participated in clinical trials without which the vaccines could not have been developed. In her view, the deference to IP slowed down access to treatments and a waiver could make a material difference. She called for partial relaxation of medicines including vaccines and treatments to overcome the pandemic globally. A focus on compulsory licensing was insufficient to remedy the issue of unequal access. She lamented what she referred to as vaccine apartheid.  
Mr Mare from ENSAfrica went beyond the Covid-19 pandemic in his statements. He maintained that IP waivers or compulsory licensing agreements have a different meaning in a Western than in an African context. In Africa, the disease burden is far higher than in Europe or the US. He also clarified that Africa is an attractive market for medicine developers and manufacturers and this needed to be recognised by companies. He also added that besides an IP waiver other measures were needed to ensure access to medicines in Africa.  
What is the future for Africa-Europe innovation cooperation? Round-up of the AEIP 'journey'. 
This session served to discuss lessons learnt from the AEIP and provide an outlook on some of the policy implications on the level of the AU and EU. 
The first presentation was provided by Rebecca Allinson from the AEIP team who shared some key lessons learnt from an internal project evaluation. Rebecca stated that the AEIP actively facilitated relationship between tech hubs and took them on a learning journey. Partnerships focused on soft landing support for start-ups and exploring joint funding opportunities. The AEIP allows policy-makers to better understand models of collaboration and linked them to innovation actors. Next steps would be to deepen connections between TTOs and tech hubs and improve the feedback mechanism to the policy sphere. Overall, it was found that a step by step approach works best for developing a programme such as the AEIP. It was considered important to allocated sufficient time for devising a strategy at the onset and to communicate a long-term vision for the network to stakeholders whilst also adapting to changing circumstances (as brought about by the pandemic).  
The AEIP advisory board members shared their own insights on the 2.5 year AEIP journey. 
Ben White from VC4Africa congratulated on the AEIP project's success. Many hubs building up capacity to help entrepreneurs and bring about higher levels of innovation. Exchanges btw. Hubs in network sharing experience/lessons learnt of how to run tech hubs very helpful.  
Quite exciting where AEIP got within 2 years. Power of bringing people together in the same room. Has advantages over digital interactions we have now. But: virtual interactions can also be facilitated. Requires lots of preparation. Need to align on stakeholder interest and tailor programme. Open innovation important approach, adaptive programming makes sense (mentioned by Rebecca Allinson).  
Argues that tech hubs are touchpoints - embedded in ecosystems, connections to universities, investors, companies. Next step would be to develop these interlinkages further to link up ecosystems. new projects have grown out of interactions btw. EBN AfriLabs, VC4Africa and other network partners through the AEIP.  
Local players in Africa becoming stronger. Networks very valuable to build innovation capacities. FinTech one example where Africa built strong ecosystems.  
EC partnership with Africa needs to be driven by shared prosperity. Collaboration for mutual benefit. Bosun's research will feed into the EC's agenda.  
Samir Abdelkrim, Emerging Valley: 
Along with Bosun Tijani and Samir Abdelkrim are members of the Advisory Group on Research and Innovation for Africa-Europe Collaboration. He presented on research they jointly carry out on the topic of technology and innovation revolution in Africa. As part of their research the experts investigate the technology drivers of economic growth in various economic sectors, from agriculture to financial technology, assess the impact of EU innovation support programmes in Africa, take an in-depth look at the evolution of digital innovation ecosystems in various African countries, and look at new initiatives launched in response to Covid to foster digital innovation on the Continent. 
Nina Commeau-Yanoussis, DG Research and Innovation, European Commission and Irie Vroh, African Union Commission, co-chairs of the Working Group on Innovation of the High Level Policy Dialogue between the African Union and the European Union 
Nina recognised the relevance of AEIP for the emergence of the Innovation Working Group. They observed that there has so far been limited participation of African stakeholders in Europe's research framework programme Horizon. They claimed that the nascent nature of Africa's innovation ecosystem compared to Europe's which poses a challenge to collaboration. The AEIP was instrumental in nevertheless bringing innovation actors from both continents together.  
Beyond AEIP: the new landscape of Africa-Europe Innovation Collaboration 
Nienke Buisman, DG Research and Innovation, European Commission 
Nienke reiterated the new plans by the European Commission for a joint innovation agenda with Africa as already indicated by Commissioner Gabriel in her opening remarks. She mentioned that the EC is looking at lessons learnt from the AEIP, including the need for a continued structural collaboration between start-ups and respective platform, working with existing structures to avoid duplication, and to ensure sustainability of the AEIP pilot. Nienke also stressed the importance of seeking closer links between the AEIP and new activities, including those launched by other EC departments, the European Investment Bank, the African Development Bank and other EU Member States. These initiatives should be brought together under the umbreall term 'Team Europe'. Finally, new initiatves will be launched such as Enrich in Africa to provide advisory services and soft-landing platforms for start-ups, tech hubs, investors and corporates. She also mentioned the Innowide Bridging Facility as another EU support scheme for collaboration focused on viability assessments for market access of European and African SMEs.   
Matthias Ploeg, AEIP project manager: 
Matthias stated that the original impetus for innovation collaboration has only increased in the wake of the pandemic. He emphasised the fact that sustainability was a focus of the AEIP pilot from the start and explained that the Africa-Europe innovation cooperation space has evolved since the launch of the pilot. After the end of the AEIP pilot, the different dimensions of this cooperation will be continued in various forms. With several new initiatives having been launched recently, it was important to avoid silos and to share knowledge between the different initiatives' coordinators.  
Dr Sandrine Doretto, Project manager of Enrich in Africa: 
Sandrine maintained that Enrich in Africa (EiA), which was launched as a Horizon-2020-funded initiative in early 2021, would build on the outcomes of AEIP. The tech hubs that are members of the AEIP network are invited to get in touch with EiA to be supported as champions. EiA will provide them and other stakeholders with access to strong partners, expertise, high quality services for tech hubs and innovators, coaching and networking opportunities, and participation in incubation programmes. The project will adopt a client-driven approach in service design. It will offer a combination of an online platform and in person services from a head office in South Africa that is hosted by two project consortium partners.  
Concluding remarks & closing of event 
Maria - Cristina Russo, Director DG Research and Innovation, (Global Approach & International Cooperation In R&I), DG RTD, European Commission: 
Cristina Russo explained how the AEIP grew out of an idea that developed in the context of missions in various African countries launched by the EC to foster collaboration on research with Europe. Innovation was missing as an element in these initiatives. The potential to bridge a gap here was recognized. AEIP turned out to be instrumental in bridging this gap and bring about innovation collaboration between the AU & EU.  
Ms Russo further praised the AEIP for having connected over 89 hubs, resulting in 50+ partnerships benefitting over 200 startups. She stressed that Africa is a key priority in the EU's global strategy. 
Comparing DG RTD's work to that of INTPA, she clarified that Horizon is focussed on scientific excellence and works through competitive calls, which is different from donor funding but rather focused on mutual ownership.  
She recognised that innovation is bottom-up and needs to respond to societal needs. This is why the UN's Sustainable Development Goals are so important as a framework for policy makers. 
Dr Mahama Ouedraogo, Director of department for Human Resources, Science & Technology African Union: 
Dr Ouedraogo stated that the AEIP's innovation focus is closely linked to the AU's Agenda 2063 and its 2024 STI strategy. The project is thus grounded in AU policy. African sustained growth requires sustained investment in new technologies and innovation in sectors such as agriculture, clean energy, education, health, and the environment in order to transform Africa into a knowledge-based society. Collaboration with Europe is critical to realizing this ambition. Mr Ouedraogo clarified that Africa is open for private-sector-led growth. Within High-Level Policy Dialogue on Science, Technology and Innovation (STI), the AU and the EU can make sure that innovation remains high on the political agenda. The AU Commission has a unit that focuses on on innovation and capital development in place to support this endeavour. When looking at innovation in an African context, it is important to consider the impact on job creation and poverty alleviation as Africa's youth bulge needs to be employed. The AU is exploring together with the EC how to use the European research framework programme Horizon for this goal.  
Mr Ouedraogo maintained that skills and capacity building are needed for an equal partnership between Africa and Europe. He is calling for significant investment in innovation in Africa and for the private sector to come in. Research in itself is not sufficient for generating knowledge, but requires investment for take-up in society. Otherwise, there is a risk of a brain drain happening. Lucrative opportunities in Africa are needed for talents to stay there.  
Hans Stausboll, Head of Unit in charge of the Regional and Multi-Country Programmes for Africa, DG INTPA:  
Mr Stausboll agreed with the previous speakers that strengthening a knowledge-based economy is a key priority indeed. He recognized the importance of the public and private sectors in driving innovation. DG INTPA will increase sustainable development funding in areas such as private sector development, digitalisation, and STI. The new Global Europe funding instrument includes €29bn in sub-Saharan Africa to these investment areas.  
Mr Stausboll considers the EU Fund for Sustainable Development to be a crucial INTPA instrument for private sector development.  
He recommends that African startups get in touch with their local tech hubs when seeking external support, but also with networks such as VC4Africa.  
Richard Labelle, Coordinator, Innovation and Entrepreneurship Lab, African Development Bank: 
Mr Labelle explained how he was present at the launch event of AEIP in Nairobi. He stated that he is quite impressed with the efforts put in by the wider AEIP team. The AfDB closely monitors the project. Europe can offer technical assistance and support on how to manage tech hubs in return for African stakeholders offering an introduction to local markets in a win-win collaboration setting. The AfDB wants to learn from AEIP for its own joint initiative with the EIB: Boost Africa. This programme which is supported by the EC is investing in VC funds to provide equity financing to African startups and early-stage small and medium enterprises (SMEs). The programme thus adopts an intermediary-focused approach, similar to the AEIP which focuses on tech hubs and TTOs.  
In the end, Ms Russo closed the AEIP final conference by thanking all participants, speakers, the AEIP team and network members for their successful work.