Summary of the Foodwaste session from the AEIP Preparatory Workshops 
Image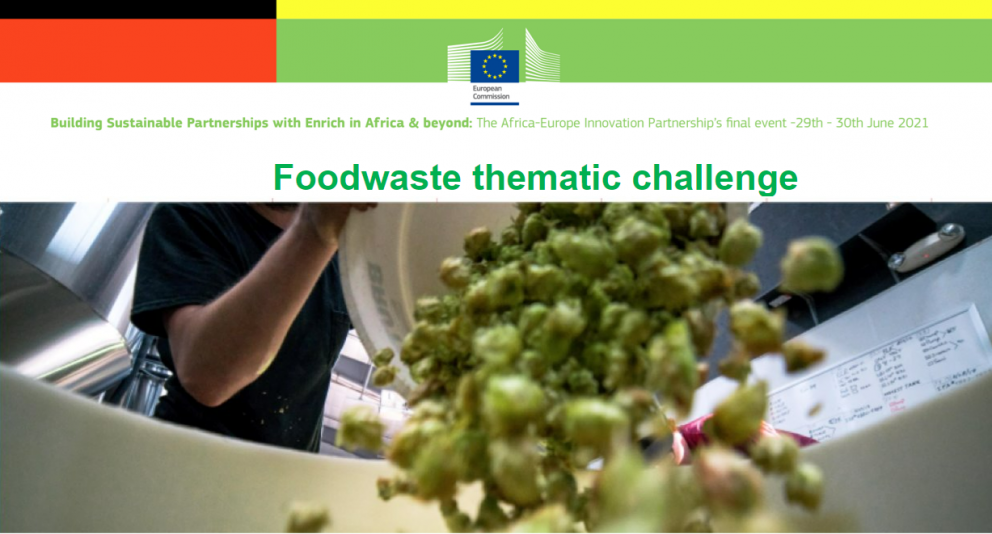 The Foodwaste session took place within the realm of the AEIP final event on June 29th 2021. The aim of this session was to take stock of the AEIP Foodwaste Thematic Challenge and discuss good practices, lessons learnt, funding opportunities and ways forward. The AEIP Foodwaste Thematic Challenge was launched in January 2021 and connects techhubs and start-ups from Africa, Europe and India building on the already existing platform of the Europe-India Innovation Partnership. The platform includes over 80 start-ups focusing on solutions for foodwaste in various areas including smart farming, food processing, logistics and packaging, supply chain management and waste management.  
As part of the Thematic Challenge start-ups from the different regions where matched to explore mutual cooperation potentials. During the session three start-up-matches introduced their partnerships, as well as the development, the state of the art and needs thereof.  
Further, two potentially interesting funding opportunities (projects/organizations), the WFP Innovation Accelerator and LEAP4FNSSA, were introduced. More information can be found here:  
At the end of the session participants discussed the potential and plans for future collaboration on the topic of foodwaste and loss between the regions as well as support that would be needed to foster and implement these activities. Amongst others, start-ups mentioned that through the cooperation they mainly aimed at market access, networking and peer-learning needing primarily funding support.  
The slides of the session can be downloaded via the button here below: