Summary of the EdTech session from the AEIP Preparatory Workshops
Image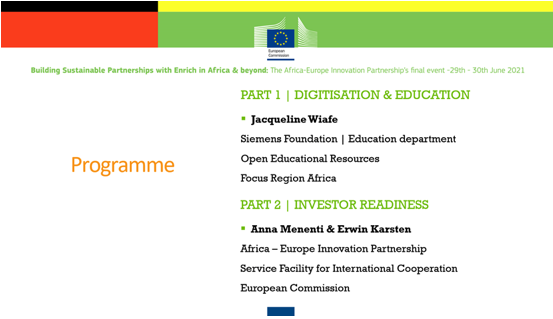 On June 29th 2021, as part of the AEIP6 event the EdTech session took place. Central goal was to address the top two needs shared by the startups from Africa and Europe that have participated in the AEIP thematic challenge on EdTech. 
The following aspects were discussed:
1. Addressing the challenges of digitization & education
-Introduction to what Siemens Foundation does in the area of education, specifically in Africa
-Introduction to the digital teaching materials for STEM subjects which are available through our partner Siemens Foundation 
-The four A's for sustainable technology-enhanced education and training: Appetite, Affordability, Ability, Access 
2. Improving access to funding
-Introduction of the Investor Readiness checklist: what any investor will want to know
-Focus in this session on:
What makes a strong team

What makes a strong product

Which funding to attract and when
Useful links
If you want to learn more about the digital education resources available through the Siemens Foundation: 
For an overview of startup funding opportunities:
The slides of the session can be downloaded via the button here below.