Summary of the Cleantech Session that took place during the AEIP Preparatory Workshops on June 29th
Image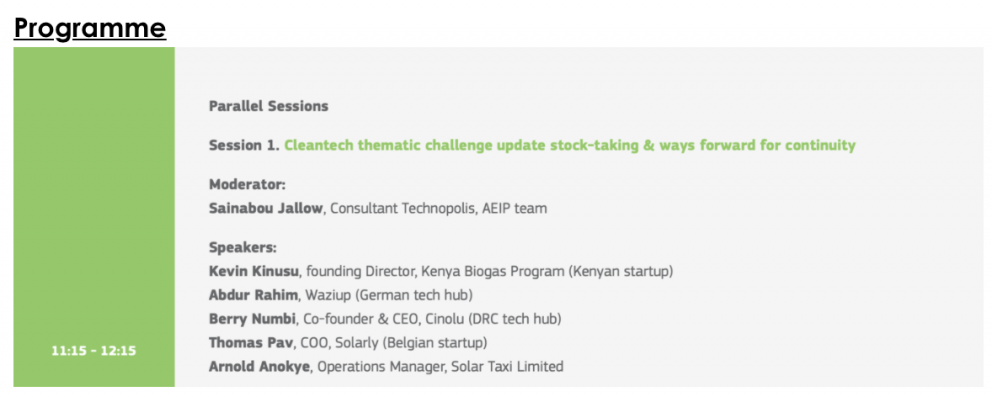 On June 29th, 2021, a parallel session was organised on the 'AEIP Cleantech thematic challenge update stock-taking & ways forward for continuity'. This session started off with a brief overview on the objective and state of play of the AEIP cleantech thematic challenge. Below is an overview on the presentation: 
The AEIP cleantech thematic challenge was launched to support tech hubs in the AEIP network and their relevant portfolio startups to collaborate in a more targeted manner.  

The objective was to match European and African cleantech startups working on similar technology solutions and/or to assist the startups with soft-landing partnerships in the other region. 

24 African & 11 European tech hubs participated in the thematic challenge by bringing together a total of 35 cleantech startups from their portfolio to join the challenge. 
The general sub-topics that the European and African cleantech startups focused on: renewable energy, clean coal or smart grid & energy storage solutions.  
In addition, during the parallel session on June 29th, presentations were given by the following startups and tech hubs that are actively participating in the AEIP cleantech thematic challenge:  
The slides presented during this session can be downloaded via the button below.