Case studies in funding innovation
Image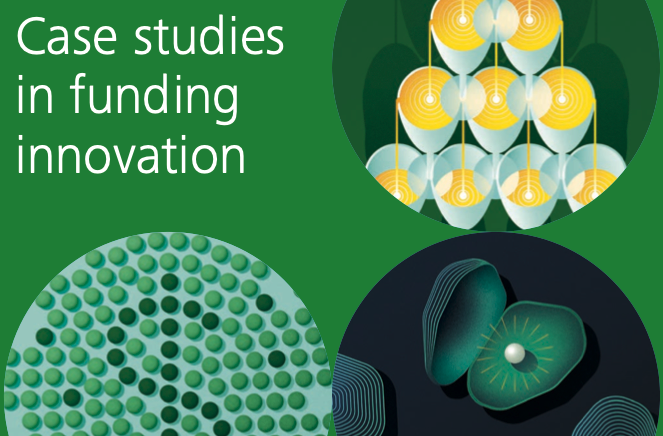 The book "Case studies in funding innovation" illuminates some of the ways that organisations might embrace supporting breakthrough ideas as part of funding portfolio.
The innovation processes described in the cases here are inherently complex, full of stops and starts, iterations, and failures. And one of the clearest takeaways looking across the sto- ries is that there is simply no straightforward recipe for funding breakthrough ideas. But the cases do help to illustrate an emerging set of "innovation funding principles" that can allow funders to better identify and support early- stage, high-risk, high-reward projects:
• Seek out ideas from new places. Finding ideas with the potential to create lasting transformation means reaching beyond the usual suspects to find promising new solutions.
• Select ideas to support based on their poten- tial for transformation. As Eric Toone, vice- provost and director of the Duke University Innovation and Entrepreneurship Initiative, explains, "When you're doing innovation,the first question is not 'Is this going to work?' but rather, 'If it works, would it matter?'"
• Provide risk capital. Many nonprofits and social activists operate with limited resources and are so focused on accomplishing their goals that they have little time and money available to experiment with new ideas. Providing flexible, unrestricted financing that can be used to try new approaches can be critical to promoting innovation.
• Support innovations with more than money. Virtually all funders try to support the work of their grantees, but early-stage innova- tions often require an especially hands-on approach to help mold emergent strategies, prototype new concepts, and build neces- sary systems and networks.
• Build ecosystems for innovation. Because foundations are rarely positioned or staffed to provide all of the different supports required to help an innovation grow and spread, it is often important to put infrastructure in place that can provide the necessary assistance required to move innovations ahead.
• Allow for iteration and failure. As Van Jones, a senior fellow at the Center for American Progress, has explained, funders need to "stop giving grants and instead start to fund experiments." This means building an appreciation for iteration, failure, and learning—it's not necessary to know all of the answers and outcomes right from the outset.
• Focus on learning and improving. Funders need to be careful not to mistake wrong turns for roadblocks. Innovations often follow a long and circuitous path, and funders need to balance the tension between "failing fast" and allowing enough time for ideas to iterate and develop.
• Think about scale and spread of innovation from the start. Innovation funders need to start thinking about scale and diffusion early by recruiting other funders to support later-stage innovation, exploring how to connect innovations to markets, soliciting support from government, and disseminating information and building capacity to help promote widespread adoption of new ideas.
To access the book, please click Download below.