AEIP Handbook on building capacities on Corporate Innovation
Image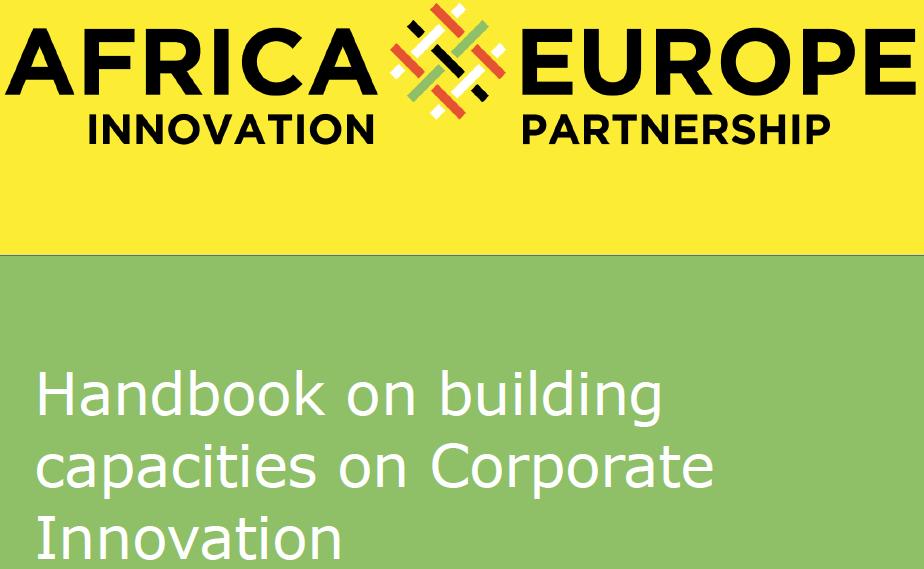 Africa Europe Innovation Partnership (AEIP) would like to share our handbook on on building capacities on Corporate Innovation!
Based on the needs assessment done at the start of the AEIP project, capacity upgrading activities will be implemented in light of enhancing individual, organizational and institutional knowledge & skills. This capacity upgrading targets African entrepreneurs, tech hubs and technology transfer actors, in a bid to facilitate technology and innovation partnerships between EU and Africa. The first training module specifically looked at the landscape of EU funding opportunities specifically designed to support the strengthening of African incubators/accelerators, startups and entrepreneurs. The second training focused on developing sustainable business models. The 3rd training session seeks to deep dive into matters of financing for start-ups. The 4th training focused on Technology Transfer Offices.
The 5th training topic was "Driving Corporate Innovation in Africa: Key Challenges and Opportunities". It was organized in collaboration with Co-Creation Hub (Cc-Hub). Cc-Hub is Nigeria's first open living lab and pre-incubation space designed to be a multi-functional space where work to catalyse creative social tech ventures take place. 
Whilst there is widespread recognition of the importance of embracing innovation, large and well-established corporations which are particularly prone to slow change still struggle with intentionally fostering out-of-the-box thinking. The current realities and rapid pace of technological innovation necessitates the need to as a matter of urgency, build the capacity for large corporations to understand and manage innovation, in addition to evaluating the return on investment to strengthen the impact of corporate innovation on their organisations' bottom-line.
On top of this, the traditional focus of the support being provided by tech hubs to innovation and entrepreneurship has been directed at start-ups and new companies. The service offering of tech hubs directed at supporting corporate innovation is still fairly limited but is believed to have a very strong potential when it comes to spurring innovation and entrapreneurship. Some tech hubs in Africa and Europe have successfully managed to integrate services and activities to drive corporate innovation into their portfolios of activities, which speaks to this unleashed potential. 
Three session were organized online in September 2020 and included a mix of keynote presentations, hands on activities and testimonials from participating tech hubs and corporates.
This handbook represents the go-to source of information for trainers and participants of capacity upgrading activities focusing on this module (e.g. webinars, face to face training sessions). In addition to this booklet, a slide deck, testing material, and a supporting documentation kit have been developed and are available on the projects document repository which can be found here: https://africaeuropeinnovationpartnership.net/resources.
By exploring the booklet readers can expect to gain a clear understanding of:
• The importance of having an innovation agenda for any kind of organization
• The establishment structure and processes for the implementation and management of corporate innovation
• The evaluation of the return on investment to strengthen the impact of corporate innovation on businesses' bottom line.
To access the handbook, please click Download below.