AEIP Handbook on building capacities of African Technology Transfer Offices
Image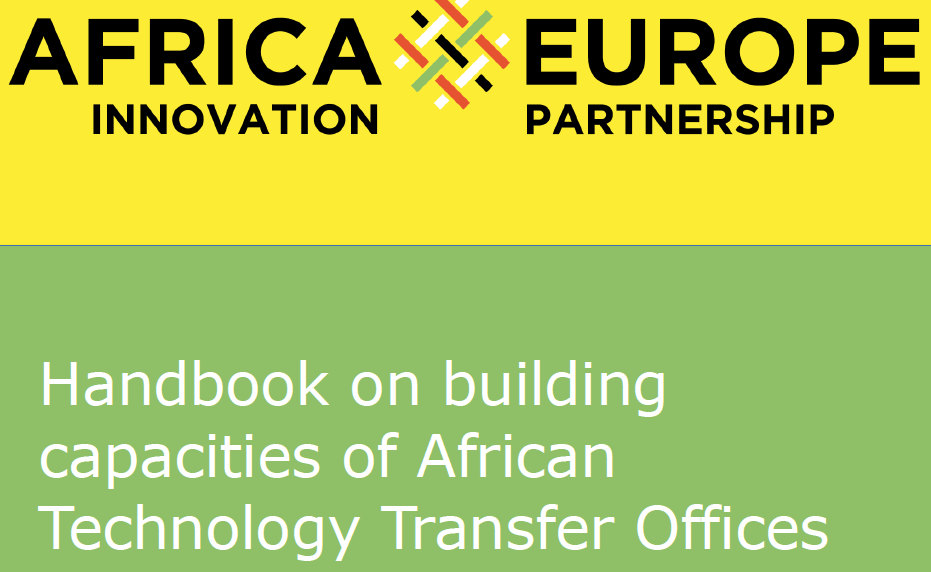 Africa Europe Innovation Partnership (AEIP) would like to share our handbook on building capacities of African Technology Transfer Offices!
As part of the AEIP project and based on the need assessment done at the start of the project, capacity upgrading activities will be implemented in light of enhancing individual, organizational and institutional knowledge & skills. This capacity upgrading targets African entrepreneurs, tech hubs and technology transfer actors, in a bid to facilitate technology and innovation partnerships between EU and Africa. The first training module specifically looked at the landscape of EU funding opportunities specifically designed to support the strengthening of African incubators/accelerators, startups and entrepreneurs. The second training in partnership with Afric'Innov focused on developing sustainable business models.The 3rd training session seeks to deep dive into matters of financing for start-ups with a particular focus to private funding in partnership with VC4A.
This 4th training lesson was organised in the framework of the 4th AEIP virtual event. The goal is to empower the Technology Transfer Offices with the skills and knowledge required to manage their activities technically and administratively throughout the chain of research till commercialisation (but not limited to). For this capacity upgrading module the AEIP is partnering with Southern Africa's Technology Transfer organization SARIMA (South African Research & Innovation Management Association). SARIMA is a membership organisation of practitioners managing and supporting activities in the continuum from Research to Innovation. It operates at an individual, institutional, national and international level. The session was initially planned in Pretoria (South Africa). However due to the COVID-19 crisis, the session was held online.
By exploring the booklet readers can expect to gain a clear understanding of:
• The management and planning for impact from research;
• The organization and functioning of a TTO;
• The value of Intellectual Property and the mechanisms of protection;
• Legal aspect of managing of TTO.
To access the handbook, please click Download below.