AEIP Handbook on accelerating innovation in a time of a crisis : a tech hub effort
Image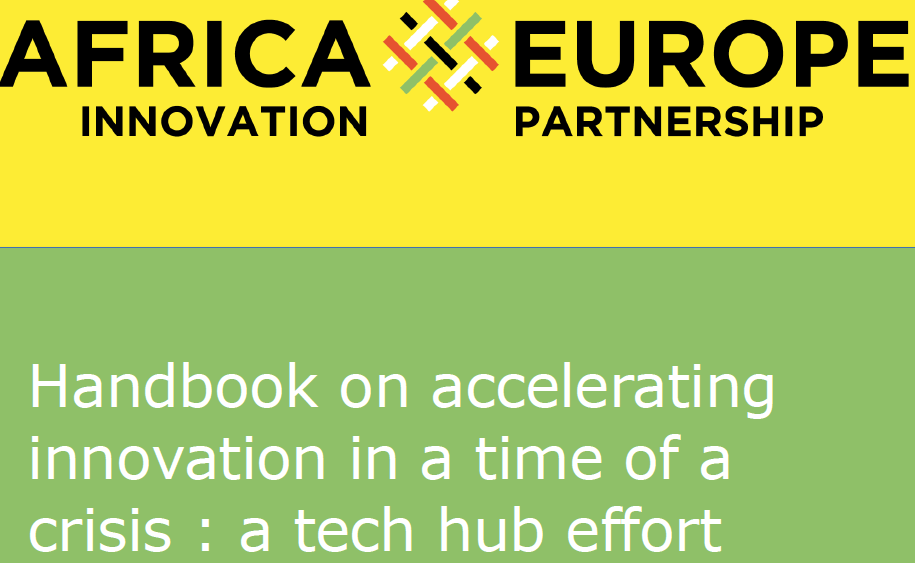 Africa Europe Innovation Partnership (AEIP) would like to share our handbook on accelerating innovation in a time of a crisis : a tech hub effort!
A number of capacity upgrading sessions are developed as part of the AEIP project in light of enhancing the abilities of the African start-up and entrepreneurial eco-system to engage in collaborative activities with their EU counterparts. Capacity upgrading activities are also meant to strengthen the African innovation eco-systems on the basis of mutual exchange and learning with European counterparts.
The first training module specifically looked at the landscape of EU funding opportunities specifically designed to support the strengthening of African incubators/accelerators, startups and entrepreneurs. The second training in partnership with Afric'Innov focused on developing sustainable business models.
This 3rd training session seeks to deep dive into matters of financing for start-ups with a particular focus to private funding in partnership with VC4A. VC4A has deep experience in connecting entrepreneurs, investors and incubators to leverage this expertise to the benefit of tech hubs and start-ups. In addition, VC4A through their Startup Academy has also developed online resources to empower entrepreneurs and hubs to help grow their businesses. The booklet was enriched with the presentation from Mathieu Trystam at Emerging Valley on April 7th 2021.
The negative impacts of the Covid-19 pandemic worldwide have caused many countries to impose national lockdowns and closed their borders, limiting travel and economic activity. Many tech hubs in Africa have resorted to working online. One of the challenges they currently face is being able to sustain the support provided to entrepreneurs, who may not be continually present in the tech hubs due to lockdowns and social distancing rules. As a result, this capacity upgrading will also aim to leverage technology for business online, and how the tech hubs can continue their operations.
By exploring the booklet readers can expect to gain a clear understanding of:
• Challenges faced by tech hubs in running support and acceleration programmes in the current context of COVID-19;
• Fundraising process for start-ups (including a general overview, who are the investors, where they are, how to find the right investors);
• Possibilities for equity crowd funding or venture funding for start-ups;
• Resources on how to design learning experience and to continue with the coaching and mentoring business functions online within the hurdles of the Covid-19 crisis.
To access the handbook, please click Download below.