AEIP Event 5: Tech Hub Networking Event
Image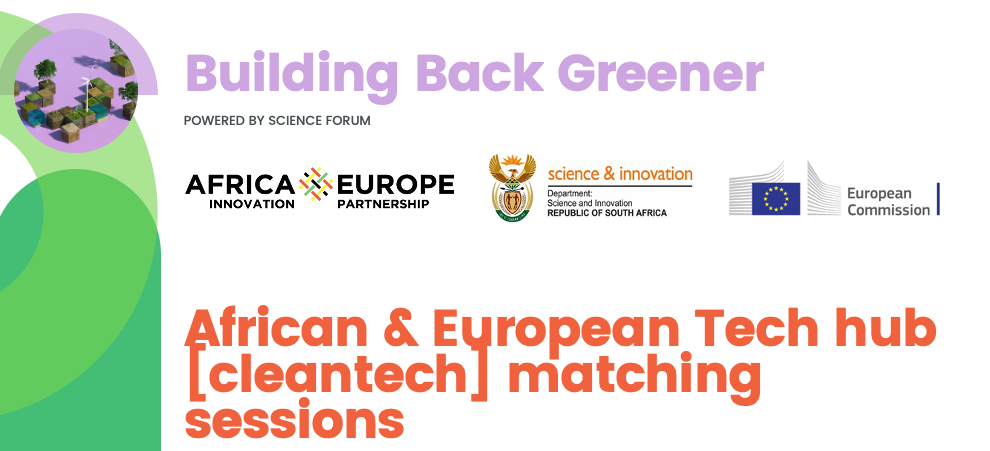 The Africa-Europe Innovation Partnership fifth event (AEIP Event 5) integrated a new cohort of 11 African and 11 European tech hubs (cohort 2) that have yet to participate in any of the AEIP networking events. In addition, 9 (cohort 1) tech hubs (5 from Africa and 4 from Europe) were invited to this networking event due to their active involvement in the AEIP tech hub cleantech challenge as well as their continued engagement and collaborative activities with tech hubs in the network.
The goal of this networking event was to support participating tech hubs to internationalise faster and gain a deeper understanding of the innovation ecosystems in Africa or Europe, respectively. The programme focused on interactions between tech hub participants through joint plenaries and breakout sessions, with the AEIP team monitoring discussions and facilitating as needed. The tech hubs were matched to counterparts from the other region and placed in breakout rooms during the event in order for them to get to develop and outline envisaged collaborative activities they could collaborate on i.e., form soft-landing partnerships, exchange on best practices, apply for joint funding opportunities, and connect to startups from the other continent.
In addition, during the event Robert Sanders, the Senior Advisor for the International Projects at EBN (European Business & Innovation Centres Network) presented on the European startup ecosystem, while Kenechukwu. C. Chukwu, the Member Services Coordinator at AfriLabs presented on the African startup ecosystem.
In the afternoon, the tech hub participants had the option to select between participating in the parallel Track 1 and Track 2 sessions.
A total of 12 tech hubs participated in Track 1, and 18 tech hubs in Track 2.
Track 1: Cleantech
Track 1 focused on the AEIP Cleantech thematic challenge that was launched within the AEIP tech hub network whereby tech hubs were asked to complete a startup profile template of their startups working on cleantech and renewable solions, and then submit it to the AEIP team. The objective of the thematic challenge was to help tech hubs in network & European and African startups working on similar solutions in the cleantech space to collaborate and possibly co-create in a more targeted manner. 
Next there was a Spotlight on the following three corporates and international partners who presented on their programs and funding opportunities to support African and European startups working on cleantech and renewable energy solutions:
Medee - European Cluster Collaboration Platform - Motors and Electrical Devices for Energy Efficiency
Waziup: is a tech hub in Germany working on a cleantech accelerator program for 2021 with a focus on big data, IoT and open-source solutions
GreenTec Capital Partners: is an investment firm based in Frankfurt, Germany, investing in European and African startups in green tech/cleantech
Following the corporates spotlight, there was a Spotlight on 3 Cleantech Startups who are already pursuing a cross continental collaboration between Africa and Europe. These startups were selected from the AEIP Thematic challenge.
Track 2: Tech Hub Matching
Track 2 was a continuation of general tech hub networking where the tech hubs in pairs and/or groups of three participated in two breakout sessions: 45 minutes per breakout. The objective was the tech hubs to get to know each other and outline envisaged areas of collaboration.
In Track 2, a total of 16 interactions between pairs or groups of three tech hubs took place in this format.
The event ended with a joint reflection on the outcome of the virtual event and the next steps to support the new partnerships that have emerged. 
To view a few slides of the event, please click Download below.